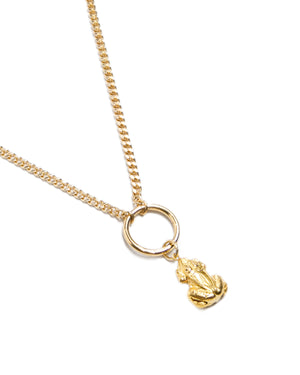 Small Puffy Frog Gold Ring Necklace
Puffy frog necklace is made using a small base metal puffy gold frog charm, a large gold-plated over brass ring, and a tiny, shiny gold-plated over brass curb chain. Clasp and components are gold-plated base metal. 
Each necklace is handcrafted at the Collarbone Jewelry Studio in Pittsburgh, PA.
Measurements: Puffy frog pictured is 1/2" long and 5/16" wide. Gold Ring is 1/2" in diameter. Lobster clasp is 1/2" long and 1/4" wide. Chain pictured is 16" long and 1/16" wide. Chain is available in 16" and 18".