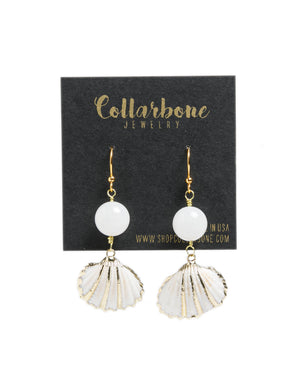 Gold Foil Seashell + Crystal Orb Earrings
Earrings are made using a real seashell with fold accent, a round Quartz stone and base metal ear wires. 
Earrings are handcrafted at the Collarbone Jewelry Studio in Pittsburgh, PA.
Measurements: Seashell charm is roughly 7/8" long and 1" wide at widest point. Seashells are one of a kind and unique, so size and shape will vary. Stone featured in picture is roughly 3/8" in diameter. Total length of each earring from the top of the ear hook to the bottom of the seashell is 1 3/8".
Upgrade ear hooks to 14K gold fill for $5 extra. These ear hooks are good for sensitive ears.