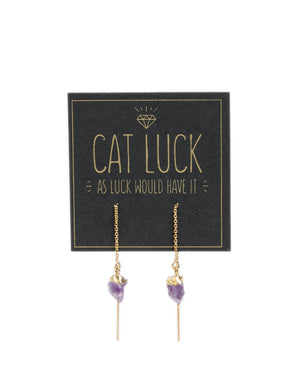 CAT LUCK Amethyst Chunk Ear Threads
CAT LUCK raw Amethyst chunk Ear Threads are made with 14K gold fill chain, raw Amethyst, and 14K gold fill ear posts. 
Each piece is handcrafted at the Collarbone Jewelry Studio in Pittsburgh, PA.
Measurements: Amethyst chunks pictured are roughly 1/2" long and 1/4" wide. Amethyst chunks are one of a kind and unique, so sizes and shapes will vary. Posts are 1/2" long and each chain is 2" long.