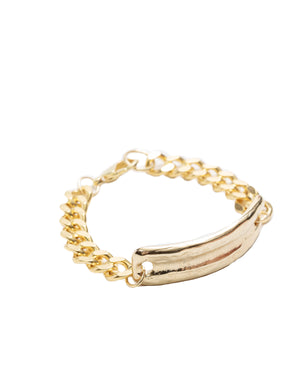 Golden Curb Chain ID Bracelet
Bracelet is made with a gold plated brass ID band and gold-plated over brass curb chain.  Clasp and jump ring are base metal. Each bracelet is handcrafted at the Collarbone Jewelry Studio in Pittsburgh, PA.
Measurements:  Bracelet ID band is roughly 5/8" long and 2 1/8" wide.  Lobster clasp is 3/4" long and 3/8" wide.  Jump ring is 1/2" in diameter.
Specify the desired size. Comes in 7", 7.5", 8", 8.5", 9", 9.5", 10"